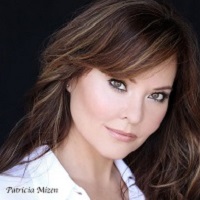 Patricia is an actor, military brat and wife, mother, content creator and military family advocate.
As a content creator, Patricia wrote, directed, acted and produced her first short film, "Blink" to help bring awareness to those who are suffering from PTSD and to support their friends and families who are also being affected by this destructive disorder. Her passion to help others comes from her own experience as a teen having to witness the effects PTSD had on her father and her family. Patricia's father is a war hero who served in the Army Special Forces. In 2014, "Blink" was officially selected into the Inaugural Indie Capitol Awards in Washington, DC.
Patricia has appeared on shows such as Boston Legal, Passions, Veep, and House of Cards. She booked her first lead in a feature film, "Assumption of Risk" which went on to win 'Best Feature' in The Winter Film Awards in New York City in 2015.
Upon her arrival back to Los Angeles in the fall of 2015, Patricia started with both feet running. She made her theater debut in, The Hollywood Fringe = Festival, summer of 2016 in an original play by Adam Hahn, "Overlay". She worked with Director Anthony Cohen of Bridge Gate Pictures and appeared in James Franco's nominated web-series "Making a Scene with James Franco". Patricia also worked with one of the original Firesign Theater performers, Philip Proctor, in the SAG Radio Play "Welcome to Firesign Theatre or Something Like It" as Nancy. She has worked in award winning short films, indie features, web series, and was just cast in a new sci-fi thriller as Keket Oscuente in an original series, "Time Traveling in Bits and Pieces.
She also helped raise awareness in "The Thirst Project", a nonprofit organization to build working wells in third world countries.  Patricia received her first professional training at 'The Actors Theatre Workshop Training Institute' in Boston, MA where she completed the Meisner Sanford Program for two years. Since moving to Los Angeles she has studied with Robert Carnegie at Playhouse West, The Groundlings, Killian McHugh, and currently enrolled in the UCLA School of Theatre, Film ad Television's (TFT) Professional Program in Acting for the Camera. Through TFT, she has had the privilege of learning from Emily Rose (Haven), Shiri Appleby (Unreal), Wendell Pierce (The Wire), Meredith Scott Lynn (Days of Our Lives), Catherine Dent (The Shield), Nolan North (Uncharted), Sacha Gervasi (The Terminal), " Jennifer Aniston (Friends), Whitney Cummings (creator: 2Broke Girls) and more.
Patricia is excited to be a part of 'The Love International Film Festival' and is looking forward in helping to raise awareness for 'The Lotus Light Children Charity ' "to build a Love league of empowered, educated, proactive individuals, who will have the necessary resources to be able to reach out to impoverished children in countries throughout the world."
Patricia is a member of the Screen Actor Guild (SAG-AFTRA) and American Equity Association (AEA). She participates in events associated with Women In Film, East West Theatre, and the Coalition of Asian Pacifics in Entertainment (CAPE). Patricia is a member of the Screen Actor Guild (SAG-AFTRA), American Equity Association (AEA) and member of The SkyPilot Theatre Company, a non-profit ensemble of resident playwrights, actors, directors and designers producing provocative, compelling and challenging new works for the Los Angeles theatre-going audience.
For Fun, Patricia loves hanging out with her family, taking her dogs to the dog park and hikes, roller-skating and binge watching some of her favorite shows on Netflix.
Her motto: "Live life to the fullest because tomorrow is never promised!"
Favorite Quote: "Seize the moments of happiness, love and to be loved! That is the only reality in the world, all else is folly."
LEO TOLSTOY, War and Peace